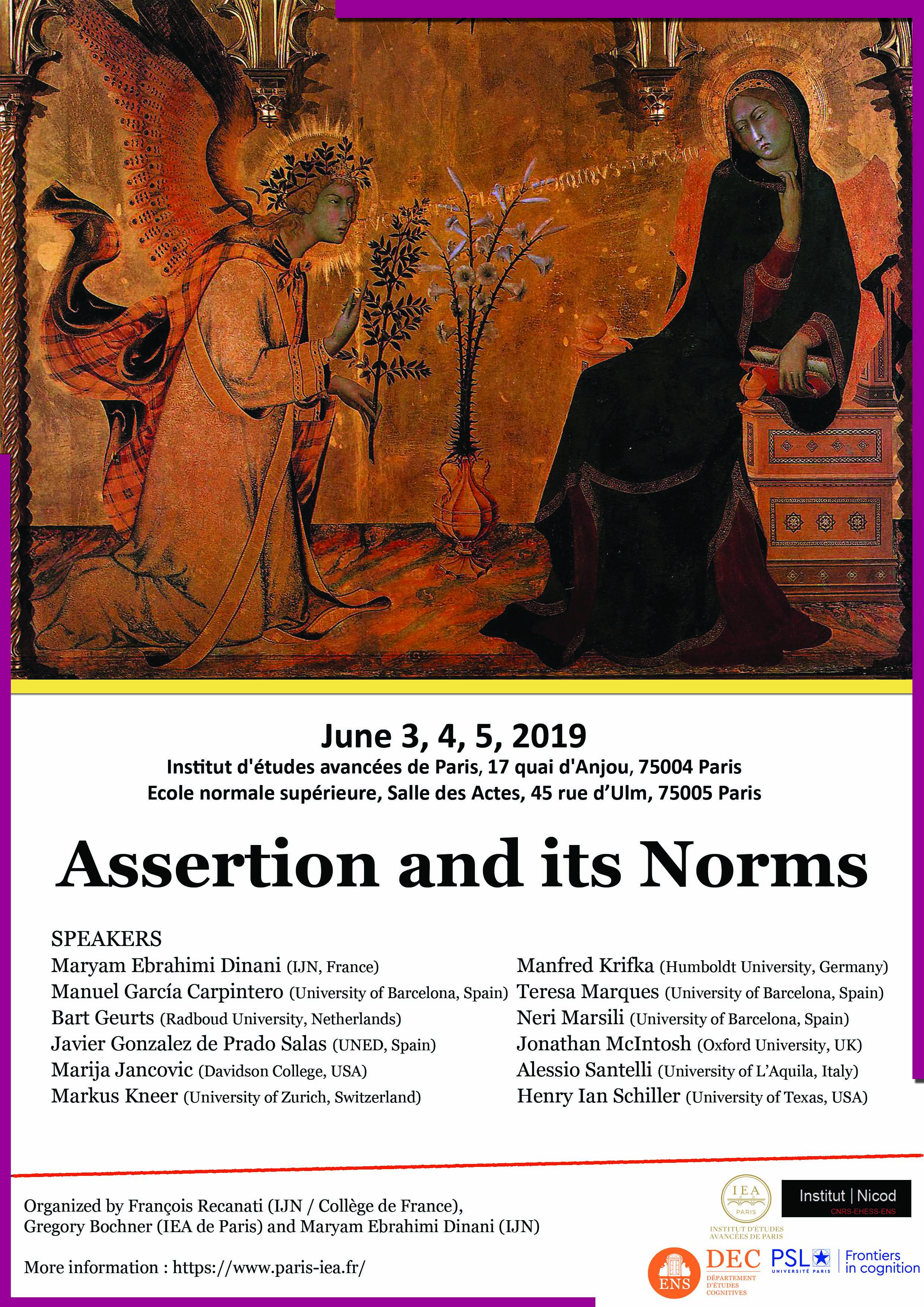 Assertion and its Norms – 3-5 juin 2019, Paris
Lieu: Institut d'Etudes Avancées (IEA de Paris),
17, quai d'Anjou, 75004 Paris
Ecole Normale Supérieure (ENS)
Salle des Actes
45, rue d'Ulm, 75005 Paris
Colloque organisé par François Recanati (Collège de France), Maryam Ebrahimi Dinani (Instiut Jean Nicod), Gregory Bochner (IEA de Paris), avec le soutien de l'IEA de Paris, de l'Institut Jean Nicod, de l'École normale supérieure, Département d'Etudes Cognitives (programme "New ideas in the philosophy of mind and language"), et de l'EUR Frontiers in Cognition.
La page web du colloque pour s'inscrire à l'événement:
https://www.paris-iea.fr/fr/evenements/assertion-and-its-norms
Présentation
La littérature philosophique contemporaine a donné une place importante à l'idée que les actes de parole peuvent être caractérisés, voire définis, par certaines normes qui en seraient constitutives. Le colloque est consacré à cette idée de règle constitutive, et à l'application qui peut en être faite dans le cas particulier de l'acte d'assertion. Les questions suivantes seront notamment abordées:
Y a-t-il des règles constitutives (par opposition aux règles simplement régulatives) et comment peut on les caractériser ?
Les actes de parole sont ils régis par de telles règles ?
Parmi les normes qui régissent l'acte d'assertion (norme de vérité, de connaissance, de sincérité, de justification...), lesquelles ont vocation à être dites constitutives de ce type d'acte ?
Quels sont les mérites respectifs des approches normatives et non-normatives des actes de parole en général, et de l'assertion en particulier ?
Y a-t-il une différence fondamentale entre des actes comme la promesse, l'ordre ou la permission, qui créent des droits et des devoirs, et l'assertion, ou bien peut-on concevoir celle-ci sur le modèle de ceux-là ?
Programme du colloque:
3 June (IEA)
1:00-2:00 p.m.: lunch
2:00-2:15 p.m.: opening
Chair: Maryam Ebrahimi Dinani (Institut Jean Nicod, Paris)
2:15-3:15 p.m.: Manfred Krifka (Humboldt-Universität zu Berlin), "Commitments and Judgements: How to Adjust the Manner and Content of your Assertions"
3:25-4:25 p.m.: Javier Gonzalez de Prado Salas (UNED, Madrid), "No Norm for (non Asserted) Implicatures"
4:25-4:55 p.m.: coffee break
Chair: Gregory Bochner (IEA, Paris)
5:00-6:00 p.m.: Marija Jancovic (Davidson College, North Carolina), "The collectivist account of telling"
6:00-8:00 p.m.: reception
4 June (IEA)
Chair: François Recanati (Collège de France, Paris)
9:45-10:45 a.m.: Manuel García-Carpintero (LOGOS, Universitat de Barcelona), "Constitutive Norms and Their Normative Conditions"
10:55-11:55 a.m.: Jonny McIntosh (Hertford College, Oxford), "In Defense of the Knowledge Norm of Assertion"
12:00-1:00 p.m.: lunch
Chair: Sajed Tayebi (IPM, Tehran)
1:15-2:15 p.m.: Maryam Ebrahimi Dinani (Institut Jean Nicod, Paris), "Two Types of Constitutive Rules"
2:25-3:25 p.m.: Neri Marsili (LOGOS, Universitat de Barcelona), "Rules and Aims: on Truth and Assertion"
3:25-3:55 p.m.: coffee break
Chair: Merel Semeijn (Rijksuniversiteit Groningen)
4:00-5:00 p.m.: Teresa Marques (LOGOS, Universitat de Barcelona), "Disagreement with a Bald-faced Liar"
5:10-6:10 p.m.: Markus Kneer (Universität Zürich), "Norms of Assertion: Empirical Data"
8:00 p.m.: workshop dinner
5 June (ENS-Salle des Actes)
Chair: Indrek Reiland (University of Edinburgh)
9:45-10:45 a.m.: Bart Geurts (Radboud Universiteit Nijmegen), "Assertion in a Normative Pragmatics"
10:55-11:55 a.m.: Alessio Santelli (Università degli Studi dell'Aquila), "Future Contingents, Branching Time, and Assertion"
12:05-1:05 p.m.: Henry Ian Schiller (University of Texas, Austin), "Assertion and Discursive Normativity"